Why Raise Funds For Us?
Because you can do something amazing to help us transform the lives of families and children across Westminster
The need for our work is growing. Poverty and the effects of poverty are apparent across the whole borough of Westminster. The emotional cost for children experiencing hardship can last a life-time. Westminster Befriend a Family depends heavily on donations from people like you to fund our work with families. Everyone needs help at some time in their life… please do something amazing and help us to help others.
You, yes you, can transform a family's world. What's more, you can do that while having fun. Challenge yourself or team up with friends, colleagues or a bunch of strangers!
We are truly grateful to the supporters who help us raise funds for the charity. Some of the fundraising events that people have organised in the past have included running marathons, holding raffles in their workplace, and arranging auctions.
If you would like to help us to fundraise, we would love to hear from you! Please give us a call or send us an email and we'd be happy to chat with you about your ideas. We'll support you all the way and promote your story and fundraising efforts across our social media.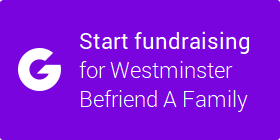 Need some inspiration?
Here are some fundraising ideas to get you started:
Individuals – ideas that you can carry out by yourself
Auction off old items on ebay
Dog walking
Give up something – Give up the internet for a day, sugar for a week, caffeine for a month… and get sponsored for it!
Spread the word – Write a post about us on Facebook or Twitter
Run a marathon
Recycle – recyclingforgoodcauses.org converts unwanted items into funds for a charity
Shave your hair
Talk to people – Tell them about us, direct them to our website, put them in contact with us… anything to get the word out!
Communities – get your friends and family involved!
Bake sale
Book sale – Ask people to donate their unwanted books and sell them off
Car wash
Fancy dress party – Or any other type of themed party
Karaoke – Charge an entrance fee
Man vs food – Eating competition
Organise classes – If you're good at something, hold classes for it (e.g. arts and crafts, chess, creative writing…)
Sports tournament
Supermarket collections – Write to your local supermarket asking if you can organise a collection for us. We'd be more than happy to provide you with collection tins and any other help you may need!
Organisations – ideas for the workplace
Auction off services – e.g. fetching coffee/tea for the week, car cleaning, baking a cake
Auction or raffle
Baby photo competition – Get people to submit pictures of themselves as babies, charge them to enter the competition, and offer a prize to the winner!
Charity of the week/month/year
Family day
Fancy dress day
Pledge an hour's pay