In 2019 Westminster Befriend a Family (WBAF) celebrates 30 years as a charity that has provided mentoring and befriending services to local, under privileged, mostly single parent families in the Borough of Westminster.  We wanted to use this year to celebrate the diversity, cultural and material, of the lives that are lived in this area and to raise awareness among local residents and businesses of the work we do.  We also want to encourage and enable our community to tell Westminster stories through the medium of photography.
Westminster Befriend a Family presents…
Uncover Westminster: A Photography Exhibition
We are grateful and humbled by three decades of service to vulnerable and disadvantaged families in Westminster. To celebrate the occasion together with the communities we serve, we will be holding a touring photography exhibition. In the spirit of "Uncover Westminster", we are inviting you to submit your photography inspired by two themes:
A day in the Life
Borough of Contrasts
Landscapes, portraits, personal documentary… From spontaneous street moments to organized set-ups, we want you to show us your unique vision of this multifaceted borough we call home.
Share your photos from across the borough for a chance to be featured in our touring exhibition.
How to Enter
SNAP a photo within the borough
FOLLOW @befriendafamily
POST your photo to Instagram
TAG your post using #befriend30 and @befriendafamily
COMMENT – tell us when you took the photo, where and give us a brief description of what you captured
… and your photo could be featured in our exhibition
Entry conditions
Photos must be your own
Photos must be taken within the boundary of the borough of Westminster
Please read the full Terms & Conditions before submitting your image
Closing date: 31 May 2019
Rules
See our Terms & Conditions for details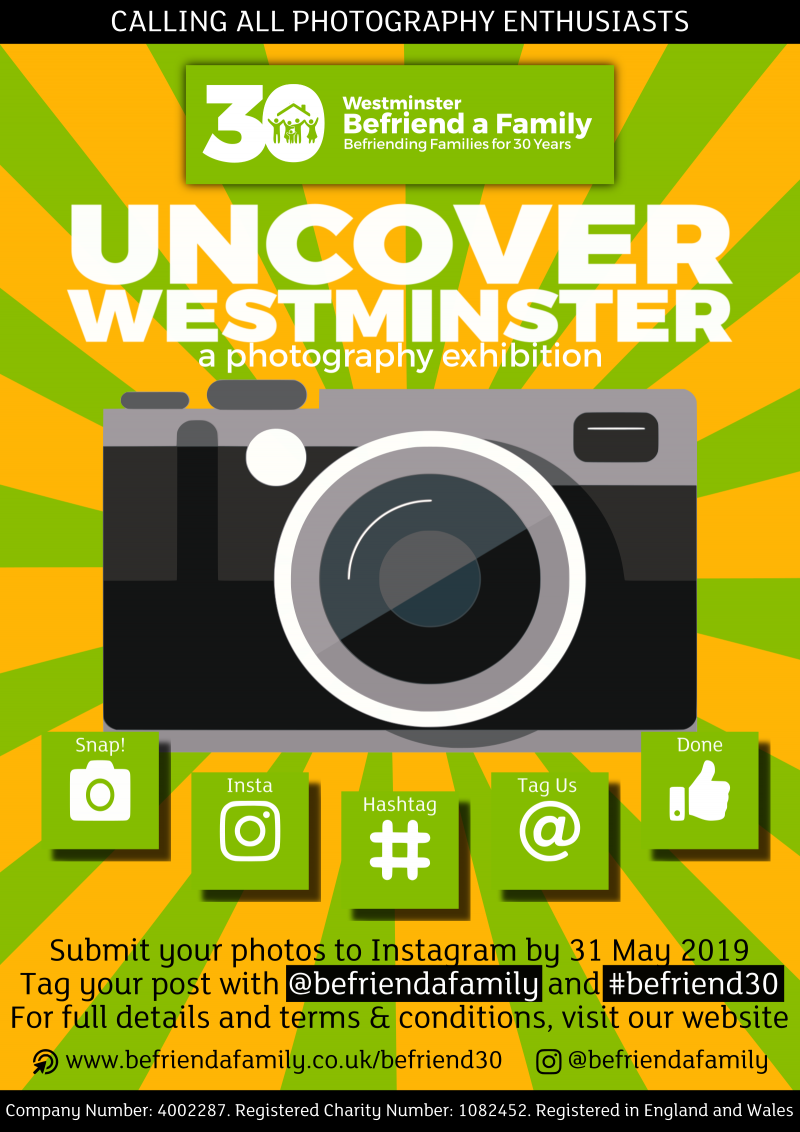 More on our borough
For more on the contrasts of our borough, take a look at some of our Uncover Westminster articles.