He did it! Tom Hutchinson finished the London Marathon. And for his first ever try at running a marathon he completed it in just 4 hours, 19 minutes. Well done!
On top of all that hard work he also managed to raise a magnificent £2,591.50, at the last count, for Westminster Befriend a Family.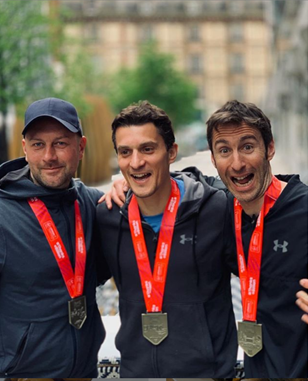 "An Amazing Experience"
He said: "I started the race in zone 5, too far back as it happens because there were a lot of people in front of me who were slower than me. Still, I was excited, a little nervous but with a lot of pent up energy. The three or four days leading up to the event were the most nerve wracking, just trying to stay calm and not pick up any last minute injuries.
"Once the race started I spent some time zig-zagging around slower runners before finding some room and then I just kept up a steady pace. The crowds were incredible. They really spurred me on when I was feeling flat.
The Wall!
"In training I knew there would be a point when I'd start getting tired. Most of the way I was coasting; at 7km to go I started to get tired and at 3-4km to go I hit the wall and stopped five or six times. I had no idea of my time but I knew I didn't want to walk the rest of the way because I wanted the run finished so the pain would go away."
Tom suffered no real injuries: no chaffing, blisters or loss of toe nails as others reported, just tired legs as you'd expect.
He added: "Now that I've done it, it's a great feeling. I just want to get my next fix. I like the general fitness of running and I like having something to work towards, so I'll be entering more marathons in the future."
Best Memories
Best memories of the day, he says were "the crowds; seeing my wife, son, parents and friends cheering me on; and the overall positive spirit and energy of everyone involved. It was an amazing experience".
There is still time to donate to Tom's page if you'd like to help him reach his ultimate goal of £3,000. Simply click: uk.virginmoneygiving.com/TomHutchinson6 and give whatever you can afford. Thank you.
See more of Tom's story:
https://www.befriendafamily.co.uk/our-own-marathon-man/